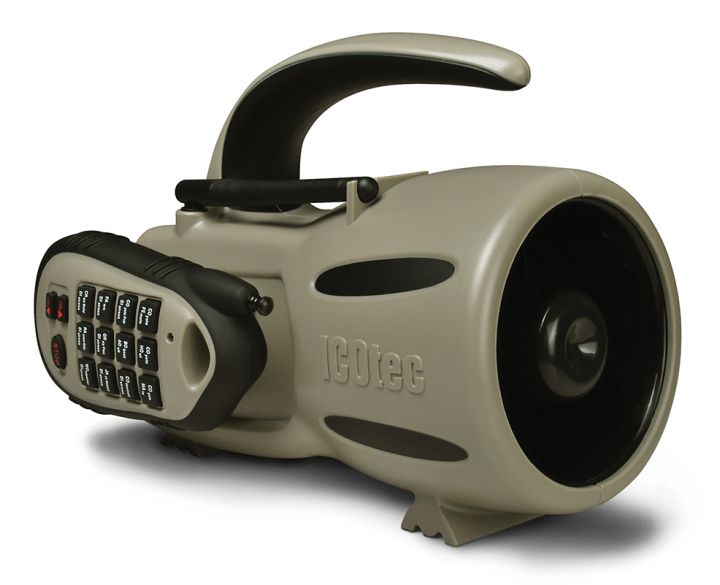 ICOtec GC300 Electronic Predator Call
By ICOtec
The GC300 offers an outstanding remote technology that is unrivalled in the industry at this price. Up to 300 yards with no line-of-sight required to activate the main speaker unit. The advantages of having this unit with preprogrammed calls from Wildlife Technologies is that you can play two calls simultaneously. That features increases the level of sophistication and betters your odds of pulling in and keeping in coyotes with a wary disposition.
No more confusing programming or long number sequences to memorise to play a high quality audio call, simply press one button and the call does the work for you. Once the call file has played the unit will pause for 30 seconds and replay the sequence. This pattern will continue until you select the stop button, at any point in the sequence you may add a second call by simply selecting the second call button and pressing it down.
Light weight, compact, easy to operate, fantastic quality audio calls from a leading bioacoustics company, very long range remote, low power consumption and one of the lowest prices available for a great call. The ICOtec GC300 is how predator calling was intended to be. Dead Serious!
Calls include:
Cottontail Distress
Jack Rabbit Distress
Coyote Pup Distress
Fawn Distress
Woodpecker Distress
Crow Distress
Raccoon Pup Distress
Gray Fox Distress
Coyote Female
Coyote Male
Coyote Yip/Howl
Bobcat Adult
*Audio calls cannot be changed or added.
Additional Call Features:
Up to 300 yard remote control range

No line-of-sight required to activate the unit

Play 2 calls at the same time

External speaker jack for added volume for extreme requirements

Includes 12 calls from Wildlife Technologies

Unit requires 4 AA batteries, not included

Remote requires an A23 battery, not included

No AUX port

One year factory warranty
Delivery Costs
£5.00 UK Mainland Under £150 Delivery in 2-4 working days
£8.50Highlands and Islands Under £150 Delivery in 2-5 working days
FREE!Free Delivery - UK Mainland, Highlands and Islands Over £150 Delivery in 2-5 working days
FREE!Store Pick Up Opening hours Mon - Fri: 9am - 5pm
Opening hours Sat: 9am - 3:30pm
Orders received before midday will, wherever possible and subject to availability, be despatched the same day. Small items will be dispatched by First Class Recorded Post. Larger items will be dispatched by courier. Please allow up to five working days for delivery.
---
Returns
If you are not entirely satisfied with your order or you wish to change it, we will gladly exchange or refund any full price unused items within 28 days or purchase.
Just follow these easy steps:
Using the same parcel that the goods arrived in, pack the item(s) to iclude all the original packaging and a copy of the invoice.

Send the parcel back to us to the following address:

Coombe Farm Sporting


Roundham, Crewkerne, Somerset TA18 8RR